---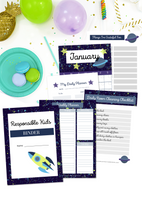 Sale
Responsible Kids Binder-Boys {100 pages}
Sale price $17.00 Regular price $47.00
What is your child doing when her schoolwork is over? Watching tv? Causing trouble? Complaining of boredom? 

What if your child, with your help, could tap his creative side and become an entrepreneur? 
What if they spent their free time building new skills and creating projects? 
What if they started spending more time thinking about how they can be a blessing to other people through acts of kindness? 
What if they could start developing good money habits, at a young age, right under your own roof? 
What if they started taking more responsibility for their own belongings, time, and body? 
The truth is, your kids can't do any of these things well without your guidance. But as parents/guardians, between all the things we're responsible for on top of raising our kids, it can be hard to remember all the things necessary to guide them into creative thinking (especially if we're dealing with our own mental clutter!).
This is where the Responsible Kids Binder comes in. The Responsible Kids Binder is a tool in your toolbox to help make this process a lot easier. It gives you the most powerful tools you need for you and your child: ideas and action plans (printables).  

With the Responsible Kids Binder, you can help your kids develop responsible habits and practice stewarding their time, body, and belongings. They'll learn how to start managing their own lives and make the most of their free time. 
This binder is a FABULOUS addition to any homeschooling curriculum or schedule!
Binder is broken down by section and includes the following:
Time Management: 
Weekly Planner
Daily Planner (3 styles)
Daily Responsibilities Checklist
Morning and Night Routine Builder
Super cute 12 month calendar
Budgeting
Responsible Kids Bucks
Things I Want to Save For Printable
Money Plan
Earnings Tracker
Spending Tracker
Weekly Savings Tracker
Monthly Savings Tracker
Creativity:
Small Business Ideas (20 Ideas) + Action Plan
Skills I Want to Build Printable (20 Ideas)
Free Time Project Ideas (20 Ideas)
Pretty Note Paper (3 styles)
Kindness: 
Acts of Kindness Ideas (20 Ideas) + Action Plan
Ways I Can Help My Parents with My Younger Siblings Printable
Ways I Can be a Blessing to My Older Siblings Printable
Mindfulness
5 Scripture Quotes
Scriptures to Memorize Printable
Prayer List
Gratitude Chart
30 Journal Prompts
Good Stewardship
Book Log
Daily Screen Time Log
Goal Setting Chart and Process Planner
Daily Routine Printables (15+ pages)
Good for ages 5+. 
Note: This is a downloadable digital product. Nothing physical will be sent to you.